A few people will contend the 'Soulslike' name needs amazing. They'll reveal to you it's abused, worn out and that there are other catch-all terms to portray half breed ARPGs, which don't depend on the examination, notwithstanding when it's the best fit. I think these individuals aren't right. Powder-colored, a low-dream activity job player created by A44 and distributed by Annapurna Interactive, nearly echoes a large number of the thoughts and frameworks found in From Software's Dark Souls arrangement. It knows precisely who its crowd is, and, in every practical sense, is a Soulslike amusement. What's more, it's a ridiculous decent one.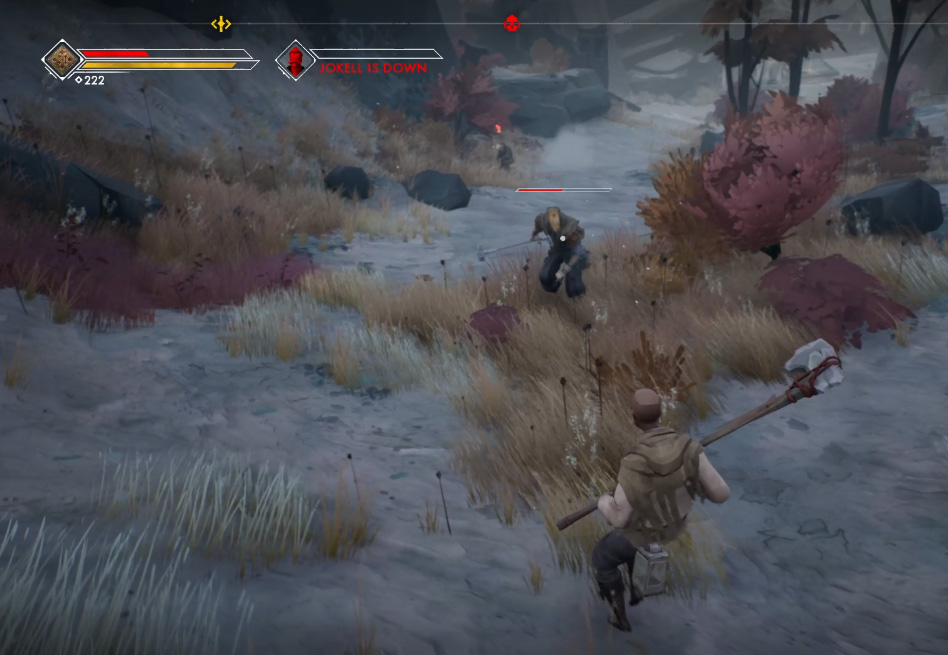 Instead of Estus Flasks, for instance, Ashen gives players sap-filled Crimson Gourds that convey wellbeing helps in restricted supply. Without Souls, Ashen exchanges Scoria—a money cultivated from fallen adversaries that assistance encourage movement. As is law in Miyazaki's bad dream scapes, collected Scoria is lost upon death, and must be recovered in your quick next life. In like manner, resting at Ritual Stones recharges imperativeness, à la Dark Souls campfires, to the detriment of restoring fallen enemies inside the world. Gray's adversaries are intense, its supervisors are blockbuster, and its exquisite handmade world is covered with equivocal legend and odd however enchanting NPCs.
In the wake of the diversion's main 'Pale' resurrection, Ashen paints a commonplace story of Light versus Dark, which eventually comes down to All the treats on the planet need the light to endure, and every one of the baddies need it smothered. The overworld is frequently depicted as the 'sundown fields', while its enormous, beastie-plagued cells are, naturally, boring and stuffed with fear.
This juxtaposition of topics is best characterized by Ashen's reality itself, which consistently changes from rambling open world to claustrophobic cavern amid the diversion's scores of organized journeys. Early entryways, I ended up mishandling around a lush territory named the Restless Knoll, which was jumbling with lance using adversaries. Matched with an AI-controlled NPC named Jokell, I let him connect with two adversaries at the foot of a slope before I swung back around and got the drop from above.
So like the Soulsborne arrangement is Ashen, truth be told, that these examinations will unavoidably pull in or turn away players from the beginning. This mirrors the polarizing idea of this style of amusement, be that as it may, by setting out its slow down with exactness and conviction, Ashen never does as such improperly. Also, Ashen pretty much rules out expectations to learn and adapt amid its moderately unobtrusive 20-ish hour's runtime. In any case, I figure it's everything the better for it.
We cleaned house on this event, in any case, in the wake of fading a way the line and re-attempting this equivalent fight plan against this equivalent bunch of adversaries, I took an alternate course to the summit of the pinnacle and was trapped by a gathering of irate shield-bearing unshaven men. Luckily, Jokell dispatched his aggressors so as to player the beardies and restore my grieved ass, however the entire trial was an exercise in how unforgiving Ashen's reality can be—and how rapidly you can wind up in high temp water. It can now and again feel a small piece on-rails, however the epochal, hack and-change character of its missions help facilitate the world's incidental linearity.
Minutes after that catastrophe, Jokell turned into my light bearing wingman as we plumbed the profundities of a Tomb of the Giants-style cell, overflowing with devices, endless winding passages and, clearly, shadow beasts. It's in these minutes that Ashen's stamina-based battle makes its mark.
In any battle, understanding the lay of the land is critical, and though clashes out in the field can be made a decision ahead of time, fights inside frequently unfurl in tight, faintly lit territories. Distinctive weapons have diverse stamina requests, and astute utilization of light and overwhelming assaults is basic for survival. Do you steam it with a RMB twofold given hatchet crush and seek after the best, or do you offload a whirlwind of LMB light-assaults and rapidly Shift evade your approach to progress? Judge well beyond words, old buddy.
What's more, talking about companions, Ashen's latent center framework is awesome. Simulated intelligence friends offer sidequests and will frequently follow along for the voyage, while genuine players let you unite as one for explicit missions and go separate ways at whatever point you so pick. You can generally go your own particular manner in the event that you like, however I'd generally suggest against it in light of the fact that an) I'm a shitebag and b) each time I went only it, I ended up weeping for a mate's assistance at any rate after another rush of misfortune.
When you've secured a NPC, you can welcome them back to your incorporated HQ in Vagrant's Rest, where they'll properly offer new key things, creating choices, legend scraps and other world-related characteristics I won't ruin here. Notwithstanding the conspicuous Firelink Shrine/Majula gesture, I got some genuine Suikoden château vibes from the hunt and enroll nature of Ashen's settlement—which is no terrible thing.
To state Ashen gets generously From Software's Soulsborne arrangement is putting it mildly, however it from numerous points of view requires the 'Soulslike' mark. Truly, Ashen echoes the center mechanics of Dark Souls, however it does as such which such artfulness that it barely matters. Its latent center highlights offer new bits of knowledge into the class, and the assortment of its wonderful world is a flat out satisfaction.